Obituary in June 8, 2012 Star Democrat. We'll miss you, Ollie!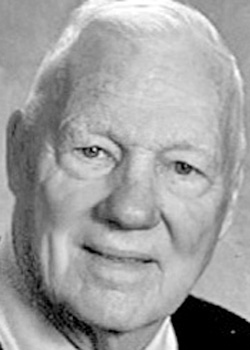 Oliver L. Smith
Posted: Star Democrat Friday, June 8, 2012 1:00 am
DENTON Oliver L. "Ollie" Smith of Denton died Wednesday, June 6, 2012, at the Memorial Hospital at Easton. He was 88 years old.
Born in Wilkinsburg, Pa., on January 21, 1924, Mr. Smith was the son of the late Oliver L. Smith Sr. and Eleanor Sterrett Smith. He was an Eagle Scout and had attended the Shadyside Academy in Pittsburgh, Pa., and then The Taft Preparatory School in Connecticut. After serving in the Navy as a Seabee at the end of WWII, he attended and graduated from Cornell University in 1950.
From 1952 until 1962, Mr. Smith was a mechanical engineer for Westinghouse. He and his family came to Denton in 1962 to purchase the Hallowell Ford Dealership which became Smith Ford. After a long and successful career, he retired in 2000. He was a member of the Caroline Bird Club, a past member of the Denton Lions Club, the Caroline Historical Society, the Bay Country Region Car Club, the DE T-Car Club, the Caroline County Forestry Board, The Nature Conservancy, and the American Chestnut Foundation. He was a member of St. Luke's United Methodist Church and attended Thawley's Chapel in Tuckahoe Neck.
Mr. Smith is survived by his wife, Eleanor M. Smith of Denton; two daughters, Connie Young and her husband Stephen of Gilbertsville, Pa., and Joanne Shipley and her husband Mike of Ridgely; one son, Richard O. Smith of Ridgely; one brother, Patterson Smith of Montclair, N.J.; one sister, Marion Turner of Naples, Fla.; four grandchildren, Julin, Jennifer, Kyle and Alexander; and two great-grandchildren, Hannah and George. He was preceded in death by a brother, James Smith.
Funeral services will be held at 11 a.m. Tuesday at the Moore Funeral Home, P.A., 12 S. Second St. in Denton. Friends may visit with the family from 6 to 8 p.m. Monday at the Thawley's Chapel United Methodist Church on Thawley Road in Tuckahoe Neck near Denton. The interment on Tuesday will be in the Denton Cemetery, 24865 Meeting House Road in West Denton.
In lieu of flowers, the family suggests for friends to send memorial donations to Thawley's Chapel UMC, c/o Pastor Joseph Smith, Ridgely UMC, P.O. Box 424, Ridgely, MD 21660. For online condolences, please go to
moorefuneralhomepa.com
.